InsulStone Mortar-less Stone Panels
InsulStone Natural or Engineered
Natural Stone or Engineered Stone
Beautiful natural or engineered stone on interlocking panels for fast, easy installation. No mortar or masons required. InsulStone R-10 insulated panels with bonded stone can be installed by most anyone. The panels interlock together and staple, screw or Ramset to the wall. The reduced installation cost makes InsulStone the choice of professionals and homeowners.
It is available in R-10 to R-30 insulation values & a variety of styles and colors. Starter, corner, cap and penetrations for electrical, plumbing and appliances are available. InsulStone is simply a better & less expensive way to install stone & increase insulation values at the same time.
Interior Peel & Stick Stone
Fast & easy installation is what this stone is all about. Install directly to sheetrock, plywood, concrete or other interior surface. The equally sized cementitious stone panels fit together like a puzzle. They can be easily dry-cut with a diamond tile saw. the adhesive strips on the back. We us special construction grade, high temperature adhesive in a caulking gun to apply the cake icing thick adhesive. Then peel the pa0per off the strips and apply. The tape will hold the panels in place while the adhesive cures for 24 hours. Use around fireplace, behind stoves or for stone accent walls or backsplash. Do it yourself or have a tile contractor install. Inexpensive, beautiful, fast and easy without the mess of masonry.
Natural or Engineered Stone Columns
Finally, a fast & easy way to build stone columns. InsulStone Columns are 6" high density foam core sections wrapped with manufactured stone like InsulStone. The column wrap has a removable side section to allow it to be slid around a 4x4, 6x6 or custom sized post. The 6" high sections simply stack up to the desired height & are glued together with CastleRock's special adhesive. A 2-piece stone cap fits around the post or when used on fence columns, a solid cap is used. Standard sizes are 16"x16" & 20"x 20" and fit a 4x4 or 6x6 post, but custom sizes are available. Eliminate masonry mess, cutting stone to fit framing and high labor cost with InsulStone modular columns.
Natural Stone Styles & Colors
InsulStone - Brochures & Components
How to Install InsulStone
Earthquake Sustainability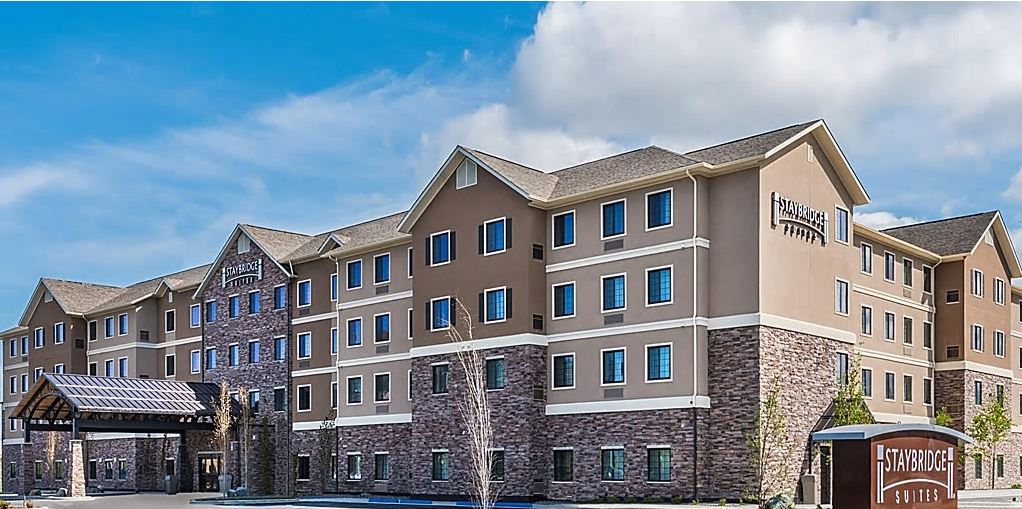 The 2018 Anchorage, Alaska Earthquake
On November 30, 2018 at 10:44 PM, a 7.0 earthquake hit Anchorage, Alaska. The IHG Staybridge Hotel pictured above was under construction. CastleRock-InsulStone had been installed between November and April because it could be installed in below zero temperatures, insulated & mortar-less. The building and exterior suffered considerable damage with broken studs and buckled sheetrock and stucco, but InsulStone survived with minimal damage. See the reference from Alaska Construction Management Services who oversaw the project.
Alaska Construction Management Services
"Shortly before the closing of this project, a large and destructive earthquake hit the Anchorage area resulting in significant damage to the finishes on the hotel. Despite the potential for severe damage to the exterior stone cladding, in the end we only had to replace 4 stones that fell off the building. This is a tribute to the design of the InsulStone panels, which are both durable and attractive". (Alaska Construction Management Services)
Name of the element

Enter description text here.