Insulated Porcelain Plank Siding
Up to 12" x 72"
Medium Size Rectangular Porcelain Panels
UP to 24" x 60"
Formats and Standard Sizes
All CastleRock/ICAP Product Install with Staples or Screws eliminating mortar, mess & reducing construction cost.
Lap & Flush Plank sizes are commonly available in the sizes below: Woodgrains, solids and textured colors are commonly use as siding. Lap Siding can only be installed horizontally.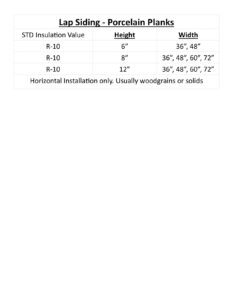 Rectangular panels can be installed vertically, horizontally or diagonally. Please contact CastleRock to confirm available sizes.

Plank Series Flush or Lap Siding Wood Grain Panels.
Any brand of porcelain can be used with the CastleRock System. Please contact us for confirmation.
Window/Door/Penetration Flashings
Flashings around windows/doors and penetrations commonly match the window frames or door frames. Corner flashings and penetration flashings usually match the cladding color as closely as possible. All flashings around doors, windows, corners and penetrations are to be caulked with a matching-colored caulking to prevent water intrusion
Drop us a line today for a free quote! Send Plans or sq.ft. of area to be covered & lin. ft. of corner to les@castlerockx.com